Sculptures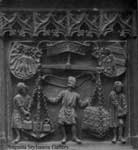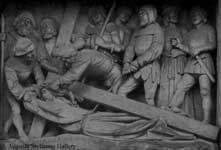 Adam Kraft (or Krafft) (c. 1460? – January 1509) was a German stone sculptor and master builder of the late Gothic period, based in Nuremberg and with a documented career there from 1490.
It is not known where Kraft was born and raised; his hand has been claimed to be evident as an assistant in works in Ulm Minster (completed 1471) and the pulpit at Strasbourg Cathedral, completed in 1485.[1] Kraft is believed to have married twice, but is not known to have produced any children. All his known works are in stone, but he may also have carved unidentified pieces in wood.
His masterpiece is considered to be the 18.7 meter tall (61 feet tall) tabernacle, that may be seen in the Saint Lorenz church of Nuremberg. The stone tower, which is supported by four figures was restored after being damaged during World War II. One of the supporting figures is a self-portrait by Kraft (above). Another important work is a huge relief of 1490-92 depicting the Crucifixion, Entombment of Christ, and Resurrection of Christ, on the exterior of St. Sebaldus Church, Nuremberg.
Kraft is believed to have completed all of his sculpting work in Nuremberg and its environs in Bavaria, between the years 1490 and 1509, working with only a small complement of two or three assistants. He is buried in nearby Schwabach. Many of his pieces are exhibited at the Nuremberg museum, the Germanisches Nationalmuseum.
References
* Kahnsnitz, Rainer, in Schultz, Ellen (ed). Gothic and Renaissance Art in Nuremberg, 1986, New York, Metropolitan Museum of Art, ISBN 978-0-87099-466-1
* Snyder, James; Northern Renaissance Art, 1985, Harry N. Abrams, ISBN 0-13-623596-4
* "Adam Krafft". Encyclopædia Britannica, 1911 edition. Retrieved August 1, 2005.
* Translation of German Wikipedia article (July 23, 2005) using Google translation tools.
* "Adam Krafft". Catholic Encyclopedia. http://www.newadvent.org/cathen/08695b.htm.
1. ^ Kahsnitz, 70

From Wikipedia. Text is available under the Creative Commons Attribution-ShareAlike License