Albert Gustaf Aristides Edelfelt (21 July 1854 – 18 August 1905) was a Finland-Swedish painter.
Paintings
Conveying the Child's Coffin ; A Child's Funeral
Portrait of Madame Vallery-Radot
Picture of the mother of the artist
Christ and Mary Magdalene, a Finnish Legend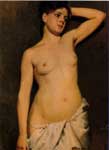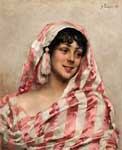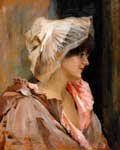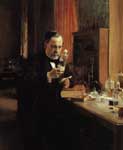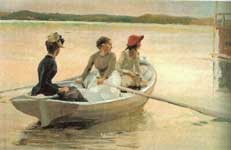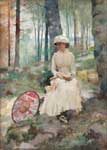 Buy Fine Art Prints | Greeting Cards | iPhone Cases
Albert Edelfelt was born in Porvoo , Finland. His father Carl Albert was an architect. Edelfelt admired the poet Johan Ludvig Runeberg, who was a friend of the family. The company of Runeberg had a lasting impact on Edelfelt, who from time to time turned to scenes from Finnish history in his paintings. Edelfelt went on to illustrate Runeberg's epic poem The Tales of Ensign Stål. He studied art in Antwerp (1873–1874), Paris (1874–1878) and Saint Petersburg (1881–1882).
He married Baroness (friherinnan) Ellan de la Chapelle in 1888 and they had one child.
Edelfelt was one of the first Finnish artists to achieve international fame. He enjoyed considerable success in Paris and was one of the founders of the Realist art movement in Finland. He influenced several younger Finnish painters and helped fellow Finnish artists such as Akseli Gallen-Kallela to make their breakthrough in Paris.
150th Anniversary Celebrations
Albert Edelfelt and painting commemorative coin
Albert Edelfelt was selected as the main motif in a recent Finnish commemorative coin celebrating the 150th anniversary of his birth, the €100 Albert Edelfelt and painting commemorative coin, minted in 2004. The reverse shows an embossed face of the artist.
Paintings
* Queen Blanca (1877)
* Duke Karl Insulting the Corpse of Klaus Fleming (1878)
* A Child's Funeral (1879)
* Virginie (1883)
* Portrait of Louis Pasteur (1885)
* Under the Birches