Paintings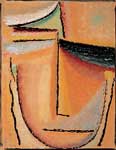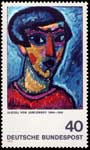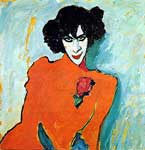 Portrait of Alexander Sakharoff
Alexej Georgewitsch von Jawlensky (13 March 1864 – 15 March 1941) was a Russian expressionist painter active in Germany. He was a key member of the New Munich Artist's Association (Neue Künstlervereinigung München), Der Blaue Reiter (The Blue Rider) group and later the Die Blaue Vier (The Blue Four).

Life and work
Alexej von Jawlensky was born in Torzhok, a town in Tver Governorate, Russia, as the fifth child of Georgi von Jawlensky and his wife Alexandra (née Medwedewa). At the age of ten he moved with his family to Moscow. After a few years of military training, he became interested in painting, visiting the Moscow World Exposition circa 1880.
In 1896 he moved to Munich, where he studied in the private school of Anton Ažbe. In Munich he met Wassily Kandinsky and various other Russian artists, and he contributed to the formation of the Neue Künstlervereinigung München. His work in this period was lush and richly coloured, but later moved towards abstraction and a simplified, formulaic style.
Alexej von Jawlensky. Abstract Head, c. 1928
Von Jawlensky died in Wiesbaden, Germany on 15 March 1941. He and his wife Helene are buried in the cemetery of St. Elizabeth's Church, Wiesbaden.
Legacy
In November 2003 his Schokko (Schokko mit Tellerhut) sold for US$ 8,296,000 and in February 2008 for GB£ 9,400,000 (US$ 18.4 million).
The 2006 album by the jazz group Acoustic Ladyland, Skinny Grin, features one of his works, Portrait of The Dancer Alexander Sacharoff, as its cover art.
Selected works
Jawlensky's works include:
* Abend
* Woman with a Fan
* Symphony
* Hyacinth (c. 1902)
* Abstract Head
* Heilandsgesicht: Nemesis II
* Cornfield near Carantec
* Girl with Flower Hat
From Wikipedia. Text is available under the Creative Commons Attribution-ShareAlike License