Paintings

Paintings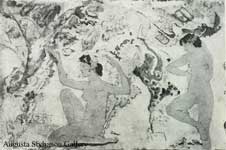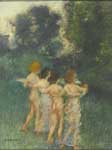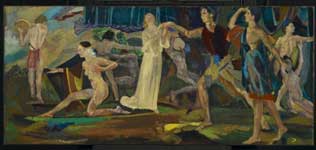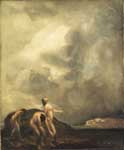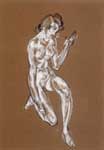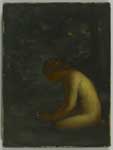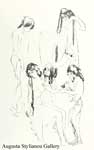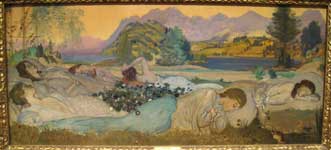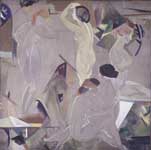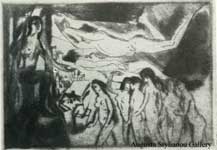 Buy Fine Art Prints | Greeting Cards | iPhone Cases
Arthur Bowen Davies (September 26, 1863 – October 24, 1928) was an avant-garde American artist and patron.
Biography
He was born in Utica, New York and studied at the Chicago Academy of Design from 1879 to 1882. He briefly attended the Art Institute of Chicago and then moved to New York City where he studied at the Art Students League.
Davies was a principal organizer of the 1913 Armory Show and was a member of The Eight, a group of painters including five associated with the Ashcan school: William Glackens (1870–1938), Robert Henri (1865–1929), George Luks (1867–1933), Everett Shinn (1876–1953) and John French Sloan (1871–1951), along with Ernest Lawson (1873–1939) and Maurice Prendergast (1859–1924). Davies is best known for his ethereal figure paintings. Curiously, he had two separate wives and families which were unknown to each other until after his death. Davies also worked as a billboard painter, engineering draftsman, and magazine illustrator.
Davies was also a mentor and patron to the sculptor John Flannagan.
Public collections
Arthur B. Davies, Elysian Fields, undated, oil on canvas, The Phillips Collection (Washington, D. C.)
(In alpha order by state, then by city, then by museum name)
* Los Angeles County Museum of Art (Los Angeles, California)
* Ruth Chandler Williamson Gallery (Scripps College, Claremont, California)
* Fine Arts Museums of San Francisco (San Francisco, California)
* Harvard University Art Museums (New Haven, Connecticut)
* Hirshhorn Museum and Sculpture Garden (Washington, D.C.)
* National Gallery of Art (Washington, D.C.)
* The Phillips Collection (Washington, D.C.)
* Smithsonian American Art Museum (Washington, D.C.)
* High Museum of Art (Atlanta, Georgia)
* Honolulu Academy of Arts (Honolulu, Hawaii)
* Smart Museum of Art, University of Chicago (Chicago, Illinois)
* Block Museum of Art (Northwestern University, Evanston, Illinois)
* Cedarhurst Center for the Arts (Mt. Vernon, Illinois)
* Midwest Museum of American Art (Elkhart, Indiana)
* Ulrich Museum of Art, Wichita State University (Wichita, Kansas)
* Farnsworth Art Museum (Rockland, Maine)
* Addison Gallery of American Art (Andover, Massachusetts)
* Museum of Fine Arts (Boston, Massachusetts)
* Worcester Art Museum (Massachusetts)
* Detroit Institute of Arts, Detroit, Michigan
* Minneapolis Institute of Arts (Minneapolis, Minnesota)
* Walker Art Center (Minneapolis, Minnesota)
* Sheldon Museum of Art (Lincoln, Nebraska)
* Montclair Art Museum (Montclair, New Jersey)
* Brooklyn Museum (Brooklyn, New York)
* Heckscher Museum of Art (Huntington, New York)
* Metropolitan Museum of Art (New York City, New York)
* Cleveland Museum of Art (Cleveland, Ohio)
* Butler Institute of American Art (Youngstown, Ohio)
* Museum of Art (Oklahoma City, Oklahoma
* Westmoreland Museum of American Art (Greensburg, Pennsylvania)
* Philadelphia Museum of Art (Pennsylvania)
* Carnegie Museums of Pittsburgh (Pittsburgh, Pennsylvania)
* Memphis Brooks Museum of Art (Memphis, Tennessee)
* Dallas Museum of Art (Dallas, Texas)
* Brigham Young University Museum of Art (Provo, Utah)
* Maier Museum of Art, Randolph College, formerly Randolph-Macon Woman's College (Lynchburg, Virginia)

References
* Burroughs, A., The Art of Arthur B. Davies, Print Connoisseur, January 1923, p. 196.
* Czestochowski, Joseph S., The Works of Arthur B. Davies, Chicago, University of Chicago Press, 1979.
* Wright, B., The artist and the unicorn: The lives of Arthur B. Davies, 1862-1928, New York, Historical Society of Rockland County, 1978