Sculptures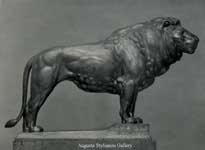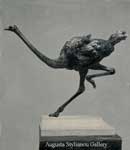 August Gaul (October 22, 1869 - October 18, 1922) was a German sculptor. Founding member of the Berlin Secession and close to its secretaries, the cousins and art dealers Bruno and Paul Cassirer, August Gaul soon advanced to one of the most important figures in the Berlin art scene before World War I. "Paulchen & Gaulchen" promoted painters like Lovis Corinth and sculptors like Ernst Barlach.
A lion by August Gaul.
Gaul died prematurely from cancer, and it is said that Paul Cassirer was a broken man, after the loss of one of his closest friends.
References
Der Tierbildhauer August Gaul, ed. Ursel Berger. Nicolai, Berlin 1999 ISBN 3-87584-858-6
Retrieved from "http://en.wikipedia.org/ ", Text is available under the Creative Commons Attribution-ShareAlike License