Artist Index
A - B - C - D - E - F - G - H - I - J - K - L - M
N - O - P - Q - R - S - T - U - V - W - X - Y - Z
Cornelis Bisschop (1630–1674), was a Dutch Golden Age painter.
Biography
In ca. 1650 he was a student of Ferdinand Bol in Amsterdam.[1] In 1653 he was back in Dordrecht, where he got married. According to Houbraken he was the first to paint carved trompe l'oeil wooden panels in such an ingenious way that they became quite popular.[2] He painted historical allegories, portraits, still-lifes, and genre-works. He was asked to paint for the Danish court, but he died unexpectedly, leaving his wife and eleven children. Of these children, two sons (Abraham (1660–1700) & Jacobus Bisschop (1658–1698)) and three daughters became painters. These had been his students when he died, and Margaretha van Godewijk studied with his daughters. She wrote an emblem about his self-portrait with a curtain, which illustrates the legend of Zeuxis.[2]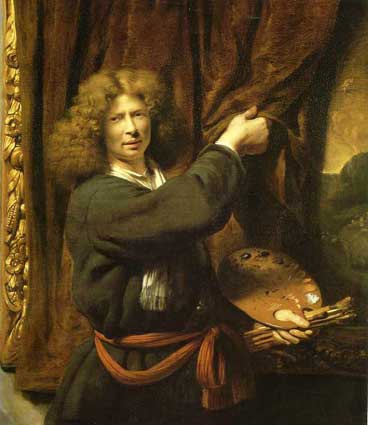 Self-portrait as Zeuxis.
1668
Oil on canvas
117 × 98.6 cm (46.06 × 38.82 in)
Dordrechtsmuseum, Dordrecht
His son Jacobus later became a student of Augustinus Terwesten in the Confrerie Pictura.[3]
References
1. ^ Cornelis Bisschop in RKD
2. ^ a b (Dutch) Kornelis Bisschop biography in De groote schouburgh der Nederlantsche konstschilders en schilderessen (1718) by Arnold Houbraken, courtesy of the Digital library for Dutch literature
3. ^ Jacobus Bisschop in RKD

From Wikipedia. Text is available under the Creative Commons Attribution-ShareAlike License Art Books