Sculptures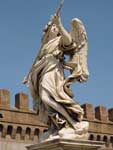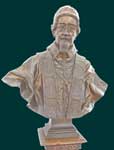 Domenico Guidi (1625 – March 28, 1701) was a prominent Italian Baroque sculptor.

Born in Carrara, Guidi followed his uncle, the prominent sculptor, Giuliano Finelli to Naples. As the nephew of a sculptor noted for his feud with Bernini, it is not surprising that Guidi was never employed by the eminent master. Instead, when he fled Naples in 1647 during Masaniello's revolt, he joined instead the studio of the main competitor, Alessandro Algardi, where he remained for seven years. While in Algardi's studio, he worked on projects with another pupil, Ercole Ferrata. For example, both helped complete their master's unfinished Vision of Saint Nicholas (completed 1655) at San Nicola da Tolentino.
Angel with the lance
Guidi gained independence with Algardi's passing in 1654. He also worked closely with the French sculptor in Rome, Pierre-Etienne Monnot. Relative to sculptors of other major studios, he was prolific. His works include the Monument to Natale Rondinini in Santa Maria del Popolo (1657) and the relief over the altar of Capella di Monte di Pieta showing a Lamentation over the dead body of Christ (1667-76). Guidi has Algardi's competence in carving and his figures show the classical emotional detachment, but the designs are uninspired when compared to his Master. He was awarded one commission directed by Bernini, the scultping of one of the angels for the Ponte Sant'Angelo.
See Romeartlover site for photos of the following:
* Angel holding the lance in Ponte Sant'Angelo
* Monument to Carlo di Montecatini in Santa Maria in Aquiro
* Monument to Camillo del Corno in the church of Gesù e Maria
* Prudence and Monument to Gaspare Thiene in Sant'Andrea della Valle
Wikimedia Commons has media related to: Domenico Guidi
Sources
* Wittkower, Rudolph (1980). Art and Architecture in Italy, 1600-1750. Pelican History of Art (Penguin Books Ltd). pp. 312–314.
* Bruce Boucher (1998). Thames & Hudson, World of Art. ed. Italian Baroque Sculpture. p. 155.
From Wikipedia. Text is available under the Creative Commons Attribution-ShareAlike License