Artist Index
A - B - C - D - E - F - G - H - I - J - K - L - M
N - O - P - Q - R - S - T - U - V - W - X - Y - Z


Paintings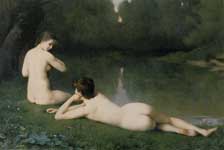 At the water's edge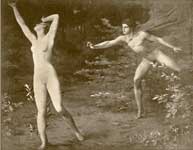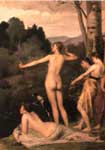 Hercules Between Virtue And Vice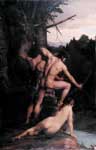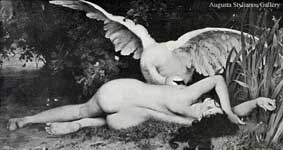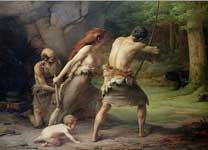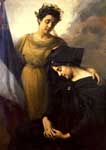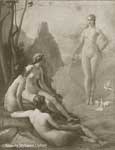 Venus Appearing to the three Graces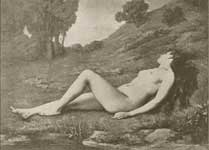 Emmanuel Benner (born 28 March 1836 in Mulhouse, Haut-Rhin, † 24 September 1896 in Nantes, Loire-Atlantique) was a French painter.

life
Emmanuel Benner was a son of the painter and textile designer Jean Benner-Fries and also worked as the first as a textile designer in Mulhouse. He went - presumably along with his twin brother Jean Benner - to Paris to Jean Jacques Henner and Léon Bonnat educate.
At the end of the Franco-German War, Emmanuel Benner began to exhibit regularly at the Salon de Paris. His picture won Le repos in the Salon of 1879 the gold medal. In 1896 he was named Chevalier of the Legion of Honor.
Benner allegorical painting, genre scenes, portraits, landscapes, still life and - like his twin brother - a lot of female nudes. In addition, he created numerous watercolors and drawings on various subjects.
On the art market are now paying up to 62,000 U.S. dollars for his oil paintings. [1]
Museums and art
Amiens: Le repos, (Gold Medal 1879)
Basel: La Verte grotto
Bern: Jeune fille à la cruche
Evreux: dormeuse
Le Havre: Venus et les Trois Graces
Limoux: L'Affût
Montpellier: Jeune fille endormie
Mulhouse: Fleurs - Tête, étude - Habitation lacustrine - Nymphs - Chrysanthèmes - Daphne - Portrait of Daniel Dollfus
Art Museum of Nantes, Nantes, L'immortalité dans ta mort
Paris (Art Mod): Saint Jerome
Paris, Musée Jean-Jacques Henner
Rouen, Musée des Beaux-Arts: Jerome - Les Baigneuses
Strasbourg, Musée d'Art Moderne et Contemporain de Strasbourg
From Wikipedia. Text is available under
the Creative Commons Attribution-ShareAlike License