Sculptures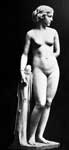 Erastus Dow Palmer (April 2, 1817 – March 9, 1904) was an American sculptor.
Palmer was born in Pompey, New York. In his leisure moments as a carpenter he started by carving portraits in cameo, and then began to model in clay with much success. His style was academic classicism. Among his works are: The White Captive (I858) in the Metropolitan Museum of Art, New York; Peace in Bondage (1863); Angel at the Sepulchre (1865), Albany, New York; a bronze statue of Chancellor Robert R. Livingston (1874), in Statuary Hall, Capitol, Washington; and many portrait busts. He died in Albany on the 9th of March 1904. His son, Walter Launt Palmer (b. 1854 to 1932), who studied art under Carolus-Duran in Paris, became a member of the National Academy of Design (1897); and is best known for his painting of snow scenes.
Indian Girl, or The Dawn of Christianity
References
* This article incorporates text from a publication now in the public domain: Chisholm, Hugh, ed (1911). Encyclopædia Britannica (Eleventh ed.). Cambridge University Press.
* Lauren Keach Lessing (2006). Presiding Divinities: Ideal Sculpture in Nineteenth-Century American Domestic Interiors. Ph.D. dissertation: Indiana University.
From Wikipedia. Text is available under
the Creative Commons Attribution-ShareAlike License