Artist Index
A - B - C - D - E - F - G - H - I - J - K - L - M
N - O - P - Q - R - S - T - U - V - W - X - Y - Z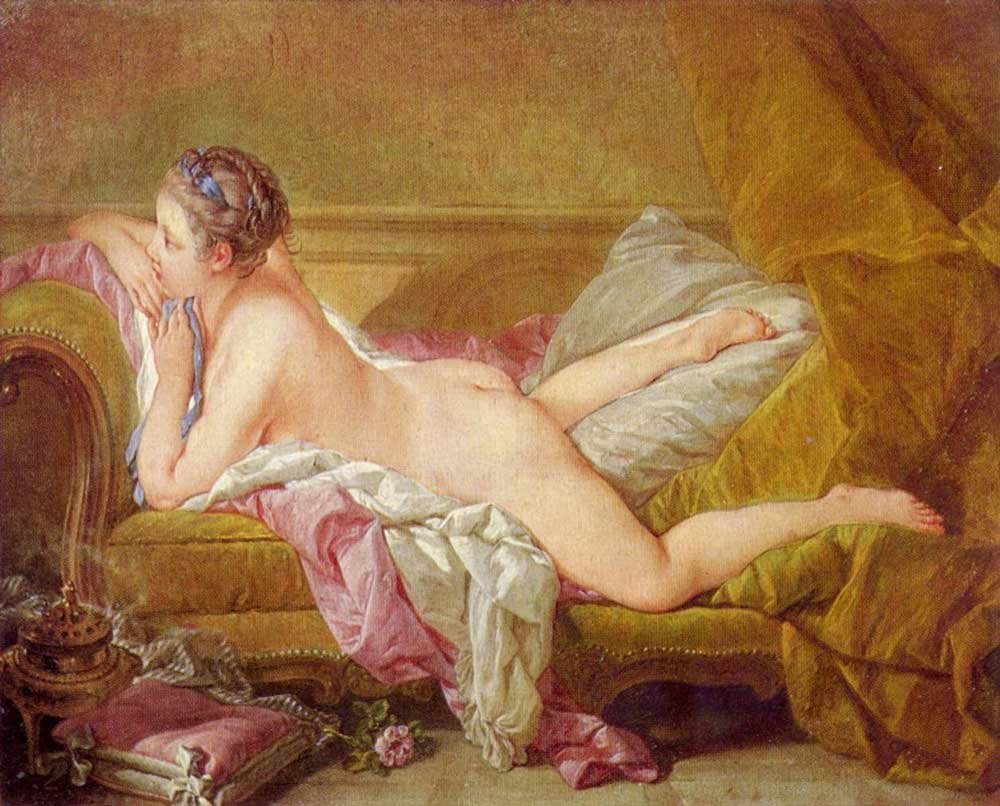 Louise O'Murphy, François Boucher
1752
Oil on canvas
59 × 73 cm (23.23 × 28.74 in)
Alte Pinakothek Munich




Marie-Louise O'Murphy de Boisfaily (21 October 1737, Rouen – 11 December 1814) was one of the younger mistresses of King Louis XV of France. Her life was dramatised in the 1997 novel Our Lady of the Potatoes.
She was the fifth daughter of an Irish officer who had taken up shoemaking in Rouen, France. After his death, her mother brought the family to Paris.
In 1752, at fourteen years of age, she posed nude for a memorable and provocative portrait by artist François Boucher. Casanova takes in his Memoirs (ch. 31) the credit for introducing her to Louis XV and from them it looks like the portrait is part of a sales campaign of her. The king, being the best bidder, took her as one of his mistresses, and she quickly became a favourite, giving birth to the king's illegitimate daughter, Agathe Louise de Saint-Antoine (1754 – 1774). General de Beaufranchet is also thought to have been her child but conceived legitimately with the comte de Beaufranchet.
After serving as a mistress to the king for just over two years, O'Murphy made a mistake that was common for many courtesans, that of trying to replace the official mistress. Around 1754, she unwisely tried to unseat the longtime royal favorite, Madame de Pompadour. This ill-judged move quickly resulted in O'Murphy's downfall at court; a marriage was arranged to comte de Beaufranchet. He died for France in 1757, at the battle of Rossbach. She would marry twice more, her third husband being thirty years her junior. The last marriage ended in divorce.
Following the French Revolution, O'Murphy was imprisoned because of her royal connections, but she survived the Reign of Terror and many years of political turmoil. She died in 1814 at the age of 77.
From Wikipedia. Text is available under
the Creative Commons Attribution-ShareAlike License