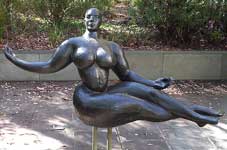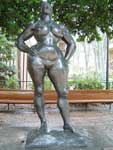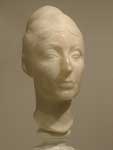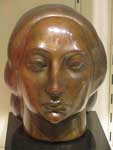 Gaston Lachaise (March 19, 1882 – October 18, 1935) was a French sculptor, active in the early 20th century. A native of Paris, he was most noted for his female nudes such as Standing Woman.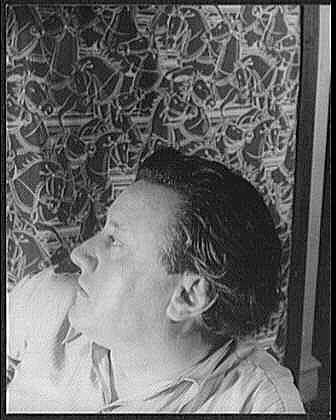 Gaston Lachaise, 26 May 1934

Early life and education
Born in Paris, Lachaise was the son of a cabinetmaker.[1] At age 13 he entered a craft school, where he was trained in the decorative arts, and from 1898 to 1904 he studied sculpture at the École des Beaux-Arts under Gabriel-Jules Thomas. He began his artistic career as a designer of Art Nouveau decorative objects for the French jeweler René Lalique.
Move to America
Having fallen in love with an American woman, Isabel Dutaud Nagle, Lachaise immigrated to the United States in 1906 and worked in Boston for H. H. Kitson, an academic sculptor of military monuments.[2] In 1912 Lachaise went to New York City and worked as an assistant to the sculptor Paul Manship. Like that of Manship, his work can be seen at Rockefeller Center.
Works
Floating Figure (1927, bronze), no. 5 from an edition of 7, Purchased 1978 by the National Gallery of Australia
Standing Woman at UCLA, 1932
Georgia O'Keeffe (marble), 1927, Metropolitan Museum of Art
Lachaise's most famous work, Standing Woman (1932), typifies the image that Lachaise worked and reworked: a voluptuous female nude with sinuous, tapered limbs. Lachaise was also known as a brilliant portraitist. He executed busts of famous artists and literary celebrities, such as John Marin, Marianne Moore, and E. E. Cummings. In 1935 the Museum of Modern Art in New York City held a retrospective exhibition of Lachaise's work, the first at that institution for any American sculptor.[3]
Collections
Public collections holding his works include:
* Addison Gallery of American Art
* Brooklyn Museum of Art
* Cleveland Museum of Art
* Currier Museum of Art
* Detroit Institute of Arts
* Fine Arts Museums of San Francisco
* Harvard University Art Museums
* Honolulu Academy of Arts
* Indiana University Art Museum
* Memorial Art Gallery
* Metropolitan Museum of Art
* Museum of Fine Arts, Boston
* Museum of Modern Art
* Nasher Sculpture Center
* National Portrait Gallery
* Pennsylvania Academy of the Fine Arts
* Phillips Collection
* Sheldon Museum of Art
* Smart Museum of Art
* Smithsonian American Art Museum
* Walker Art Center

References
1. ^ "Biography". Boston: The Lachaise Foundation. http://www.lachaisefoundation.org/lachaise/index.html. Retrieved 2010-01-10.
2. ^ "GASTON LACHAISE". Portrait of the Art World. Washington, D.C.: National Portrait Gallery. http://www.npg.si.edu/cexh/artnews/lachaise.htm. Retrieved 2010-01-10.
3. ^ "GASTON LACHAISE, SCULPTOR, 53, DIES", The New York Times (New York): 17, 1935-10-19, ISSN 0362-4331, http://select.nytimes.com/gst/abstract.html?res=F30915F9395C147A93CBA8178BD95F418385F9, retrieved 2010-01-10
Retrieved from "http://en.wikipedia.org/ ", Text is available under the Creative Commons Attribution-ShareAlike License