Sculptures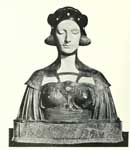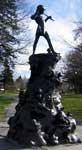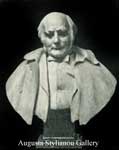 Sir George James Frampton, RA (18 June 1860-21 May 1928) was a notable British sculptor and leading member of the New Sculpture movement.[1]
Early life and career
Frampton, the London-born son of a stone mason, began his working life in an architect's office before studying under William Silver Frith at the City and Guilds of London Art School (formerly Lambeth School of Art). He went on to the Royal Academy Schools where he won the Gold Medal and Travelling Scholarship. From 1887 to 1890 Frampton undertook further study and work at the studio of Antonin Mercie in Paris.[2]
Frampton returned to England and took up a teaching position at the Slade School of Art in 1893.[3]
He was married to the artist Christabel Cockerell and had one son, the painter and etcher Meredith Frampton.[4]
Best known works
Among Frampton's notable public sculptures are the figures of Peter Pan playing a set of pipes, the lions at the British Museum and the Edith Cavell monument that stands outside the National Portrait Gallery, London.[4] There are seven casts of the Peter Pan statue, following an original commission by J. M. Barrie.[5] The statues are situated in
Kensington Gardens, London, England
Sefton Park, Liverpool, England
Brussels, Belgium
Camden, New Jersey, United States
Perth, Western Australia, Australia
Toronto, Canada
Bowring Park in St. John's, Newfoundland, Canada.
A number of his works can be seen at the restored St James' Church, Warter in Yorkshire.
References
1. ^ Benedict Reed, Henry Moore Lecturer in Sculpture Studies, University of Leeds "Subject in the New Sculpture" 2 January, 2005
2. ^ Oxford Dictionary of National Biography George Frampton
3. ^ A Brief History of the Slade School of Art
4. ^ a b Oxford Dictionary of National Biography "George Frampton"
5. ^ Kensington Gardens


Retrieved from "http://en.wikipedia.org/ ", Text is available under the Creative Commons Attribution-ShareAlike License