Artist Index
A - B - C - D - E - F - G - H - I - J - K - L - M
N - O - P - Q - R - S - T - U - V - W - X - Y - Z

Gilbert William Bayes RA (1872–1953) was a British sculptor and medalist.
Sculptures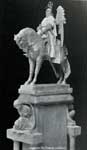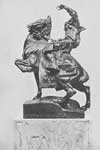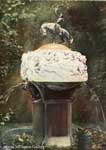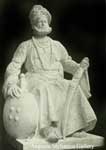 The Late Maharajah of Bickaneer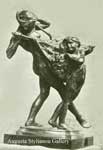 Born in London into a family of artists, Bayes' lengthy and illustrious career began as a student under Sir George Frampton and Harry Bates[1], and so became associated with the British New Sculpture movement and its focus on architectural sculpture.
Bayes is perhaps best remembered for his interest in color, his association with the Royal Doulton Company, and his work in polychrome ceramics and enamelled bronze. His major ceramic frieze at the Doulton Headquarters of 1938 was removed in the 1960s when the building was razed, and re-located to the gallery at the Victoria and Albert Museum which bears his name. He also designed a number of war memorials, with public work throughout the former Empire, from New South Wales to Bangalore.
He eventually served as President of the Royal British Society of Sculptors from 1939 through 1944. Bayes' home at 4 Greville Place in London bears a blue plaque placed by English Heritage.
Work
* exterior work at the Victoria and Albert Museum under Sir Aston Webb, London, circa 1909
* Destiny, Albion Gardens, Ramsgate, Kent, dedicated 1920
* the Todmorden War Memorial, West Yorkshire, 1921
* Offerings of Peace at the Art Gallery of New South Wales, 1923
* the National War Memorial, St. John's, Newfoundland and Labrador, 1924
* the Queen of Time bronze group above the Oxford Street entrance to London Selfridges, 1928
* Drama Through the Ages, polychrome ceramic frieze for the Saville Theatre (now the Odeon Covent Garden cinema), London, 1931
* exterior bas-reliefs and interior work at the BBC Broadcasting House, London, 1931 [2]
* six allegorical relief panels, Commercial Bank of Scotland, Bothwell Street, Glasgow, 1934-35[3]
* History of Pottery through the Ages, polychrome ceramic frieze for the London headquarters of the Royal Doulton Company, 1938
* two memorial bronzes at the St James' Church, Warter
* statue of J.N. Tata at the Indian Institute of Science, Bangalore

References
1. ^ Public sculpture of Glasgow By Raymond McKenzie, Gary Nisbet
2. ^ http://heritage.elettra.co.uk/artdeco/profile.php?building=bbc
3. ^ Public sculpture of Glasgow By Raymond McKenzie, Gary Nisbet

From Wikipedia. Text is available under the Creative Commons Attribution-ShareAlike License