Paintings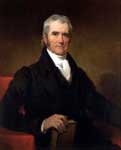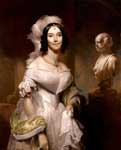 Portrait of Angelica Singleton Van Buren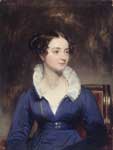 Henry Inman (October 20, 1801 – January 17, 1846) was an American portrait, genre, and landscape painter.
Biography
He was born at Utica, N. Y., and was for seven years an apprentice pupil of John Wesley Jarvis in New York City. He was the first vice president of the National Academy of Design. He excelled in portrait painting, but was less careful in genre pictures. Among his landscapes are Rydal Falls, England, October Afternoon, and Ruins of Brambletye. His genre subjects include Rip Van Winkle, The News Boy, and Boyhood of Washington. His portraits include those of Henry Rutgers and Fitz-Greene Halleck in the New York Historical Society. He also painted portraits of Bishop White, Chief Justices Marshall and Nelson, Jacob Barker, William Wirt, Audubon, DeWitt Clinton, Martin Van Buren, and William H. Seward. Inman painted more than 30 Native American portraits, of which nearly a dozen are in the collection of the White House. In the Metropolitan Museum, New York, are his Martin Van Buren, The Young Fisherman, and William C. Maccready as William Tell.
During a year spent in England in 1844–1845, he painted Wordsworth, Macaulay, John Chambers, and other celebrities. He returned to America in failing health, and at the time of his death, January 17, 1846, was engaged on a series of historical pictures for the Capitol at Washington.
References
* This article incorporates text from an edition of the New International Encyclopedia that is in the public domain.
From Wikipedia. Text is available under the Creative Commons Attribution-ShareAlike License