Augusta Stylianou Gallery
<-----===========------->
Loading
Ignacio Salvador Díaz Ruiz de Olano
Paintings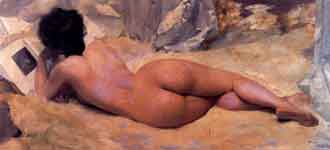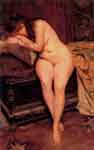 Ignacio Salvador Díaz Ruiz de Olano (Vitoria, Alava, February 1, 1860 - Vitoria, Alava, March 7, 1937) was a Spanish painter.
At the age of 14 he began studying painting at the Academy of Painting the city. Then, he continued painting studies in Barcelona and Paris. 2 years later he moved to Rome in 1894 and returns to Vitoria, "The Danzarin" satirical magazines Galop his pseudonym. In 1901, the trade and was appointed Professor of Fine Arts.
Between 1890 and 1925 he participated in numerous exhibitions held in Spain.

Today, a street bears his name.

Work
Mountain, return to Calvary (1903) [2]
Resorts (1915)
Siesta (1915)
References
↑ National Museum of the Prado in Madrid.
↑ Provincial Council: Culture
From Wikipedia. Text is available under the Creative Commons Attribution-ShareAlike License