Sir Jacob Epstein KBE (10 November 1880 – 19 August 1959) was an American-born British[1][2][3][4] sculptor who helped pioneer modern sculpture. He was born in the United States, and moved to Europe in 1902, becoming a British citizen in 1911. He often produced controversial works which challenged taboos on what was appropriate subject matter for public artworks. He also made paintings and drawings, and often exhibited his work.[5]
Sculptures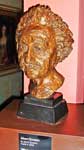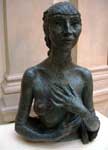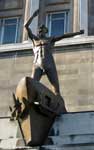 Early life and education
Epstein's parents were Polish Jewish refugees,[6][7] living on New York's Lower East Side. His family was middle-class, and he was the third of five children. His interest in drawing came from long periods of illness; as a child he suffered from pleurisy.
He studied art in his native New York as a teenager, sketching the city, and joined the Art Students League of New York in 1900. For his livelihood, he worked in a bronze foundry by day, studying drawing and sculptural modeling at night. Epstein's first major commission was to illustrate Hutchins Hapgood's Spirit of the Ghetto. The money from the commission was used by Epstein to move to Paris.
Move to Europe
Moving to Europe in 1902, he studied in Paris at the Académie Julian and the École des Beaux-Arts. He settled in London in 1905 and married Margaret Dunlop in 1906.[8] In 1911 he became a British subject.[9] Many of Epstein's works were sculpted at his two cottages in Loughton, Essex, where he lived first at number 49 then 50, Baldwin's Hill (there is a blue plaque on number 50). He served briefly in the 38th Battalion of the Royal Fusiliers aka the Jewish Legion during World War I.
Work
In London, Epstein involved himself with a bohemian and artistic crowd. Revolting against ornate, pretty art, he made bold, often harsh and massive forms of bronze or stone. His sculpture is distinguished by its vigorous rough-hewn realism. Avant-garde in concept and style, his works often shocked his audience. He often used expressively distorted figures, drawing more on non-Western art than the classical ideal. People in Liverpool nicknamed his nude male sculpture over the door of Lewis's department store "Dickie Lewis". Such factors may have focused disproportionate attention on certain aspects of Epstein's long and productive career, throughout which he aroused hostility, especially challenging taboos surrounding the depiction of sexuality.
Jacob Epstein in 1934, photograph by Carl Van Vechten
London was not ready for Epstein's first major commission — 18 large nude sculptures made in 1908 for the façade of Charles Holden's building for the British Medical Association on The Strand (now Zimbabwe House) were initially considered shocking to Edwardian sensibilities. One of the most famous of Epstein's early commissions is the tomb of Oscar Wilde in Pere Lachaise cemetery, Paris, "which was condemned as indecent and at one point was covered in tarpaulin by the French police."[10]
However, the mutilated condition of many of the sculptures has nothing to do with prudish censorship; it was caused in the 1930s when possibly dangerous projecting features were hacked-off after pieces fell from one of the statues. Between 1913 and 1915 Epstein was associated with the short-lived Vorticism movement and produced one of his best known sculptures The Rock Drill. In 1915, John Quinn, wealthy American collector and patron to the modernists, bought an Epstein sculpture to add his private collection.[11]
A commission from Holden for the new headquarters building of the London Electric Railway generated another controversy in 1929. His nude sculptures Day and Night above the entrances of 55 Broadway were again considered indecent and a debate raged for some time regarding demands to remove the offending statues which had been carved in-situ. Eventually a compromise was reached to modify the smaller of the two figures represented on Day. But the controversy affected his commissions for public work which dried up until World War II.
Between the late 1930s and the mid 1950s, numerous works by Epstein were exhibited in Blackpool. Adam, Consummatum Est, Jacob and the Angel and Genesis (amongst other less notable works) were initially displayed in an old drapery shop surrounded by red velvet curtains. The crowds were ushered in at the cost of a shilling by a barker on the street. After a small tour of American fun fairs, the works were returned to Blackpool and were exhibited in the anatomical curiosities section of the Louis Tussaud's waxworks. The works were displayed alongside dancing marionettes, diseased body parts and Siamese twin babies in jars. Placing Epstein within the context of freakish curiosity, especially at a time of such hostility towards the Jews, perhaps added to Epstein's decision not to create further large-scale direct carvings.
Bronze portrait sculpture formed one of Epstein's staple products, and perhaps the best known. These sculptures were often executed with roughly textured surfaces, expressively manipulating small surface planes and facial details. Some fine examples are in the National Portrait Gallery. Another famous example is the bust of legendary Arsenal manager Herbert Chapman that sat in the marble halls of Highbury for many years before being moved to the new Emirates Stadium.
Epstein's aluminium figure of Christ in Majesty (1954-5), is suspended above the nave in Llandaff Cathedral, Cardiff, on a concrete arch designed by George Pace.
His larger sculptures were his most expressive and experimental, but also his most vulnerable. His depiction of Rima, one of author W. H. Hudson's most famous characters, graces a serene enclosure in Hyde Park. Even here, a visitor became so outraged as to defile it with paint. He was one of 250 sculptors who exhibited in the 3rd Sculpture International held at the Philadelphia Museum of Art in the summer of 1949.
Epstein would often sculpt the images of friends, casual acquaintances, and even people dragged from the street into his studio almost at random. He worked even on his dying day. He also painted; many of his watercolours and gouaches were of Epping Forest, where he lived (at Loughton) and sculpted. These were often exhibited at the Leicester Gallery in London. His Monkwood Autumn and Pool, Epping Forest date from 1944-45.
Epstein was Jewish,[12][13][14][15] and negative reviews of his work sometimes took on an antisemitic flavor, though he did not attribute the "average unfavorable criticism" of his work to antisemitism.[16]
Personal life
Despite being married to and continuing to live with Margaret, Epstein had a number of relationships with other women that brought him his five children: Peggy Jean (born 1918), Theo (1924–1954), Kathleen (Kitty, born 1926), Esther (1929–1954) and Jackie (born 1934). Margaret generally tolerated these relationships — even to the extent of bringing up his first and last children. In 1921 Epstein began the longest of these relationships with Kathleen Garman, one of the Garman sisters,[17] mother of his three middle children, which continued until his death. Margaret "tolerated Epstein's infidelities, allowed his models and lovers to live in the family home and raised Epstein's first child, Peggy Jean, who was the daughter of Meum Lindsell, one of Epstein's previous lovers. However, Margaret's tolerance did not extend to Epstein's relationship with Kathleen Garman, and in 1923 Margaret shot and wounded Kathleen in the shoulder."[10]
Margaret Epstein died in 1947, and after Epstein was appointed Knight Commander of the Order of the British Empire in the 1954 New Year Honours[18] he married Kathleen Garman in 1955.
Kitty married painter Lucian Freud in 1948 and is mother of two of his daughters, Annie and Annabel. In 1953 they divorced. She married a second time in 1955, to economist Wynne Godley.[citation needed] They have one daughter.
Death and legacy
Epstein died 21 August 1959 in London[3] and is buried in Putney Vale Cemetery.
The Garman Ryan Collection, including several works by Epstein, was donated to the people of Walsall, by Lady Epstein in 1973. It is on display in Walsall Art Gallery.[19]
His art is displayed all over the world;[20] highly original for its time, its influence on the younger generation of sculptors such as Henry Moore[21][22] and Barbara Hepworth[23] was significant. According to June Rose, in her biography, Moore was befriended by the older sculptor during the early 1920s and visited Epstein in his studio. Epstein, along with Moore and Hepworth, all expressed a deep fascination with the non-western art from the British Museum.
Selected major pieces
* 1907–8 Ages of Man [1] - British Medical Association headquarters, The Strand, London — mutilated/destroyed
* 1911 Oscar Wilde Memorial — the Père Lachaise Cemetery, Paris
* 1913–4 The Rock Drill [2] (symbolising 'the terrible Frankenstein's monster we have made ourselves into')
* 1917 marble Venus — Yale Center for British Art, New Haven, Connecticut
* 1919 bronze Christ — Wheathampstead, England
* 1923 W. H. Hudson Memorial, Rima [3] — Hyde Park, London
* 1928–9 Night and Day — 55 Broadway, St. James', London
* 1933 Head of Albert Einstein — Honolulu Academy of Arts
* 1939 Adam in alabaster — Blackpool, England. Now residing in Harewood House, Leeds
* 1940 Jacob and the Angel [4] — the Tate Gallery Collection (originally controversially "anatomical")
* 1947 Lazarus — New College, Oxford
* 1950 Madonna and Child [5] — Convent of the Holy Child Jesus, London
* 1954 Social Consciousness [6] — Philadelphia Museum of Art, Philadelphia
* 1958 St Michael's Victory over the Devil — Coventry Cathedral
* 1959 Rush of Green [7] — Hyde Park, London

Sculptures
Kathlene, in the Bristol City Museum and Art Gallery

Bust of Joseph Conrad (1924) in Birmingham Museum and Art Gallery

Bust of Einstein (1933) in Birmingham Museum and Art Gallery

Day and Night (1928) Portland stone, carved for the London Electric Railway headquarters were considered too shocking when they were unveiled
Jan Smuts in Parliament Square, London

The Archangel Lucifer (1944-5) in the round gallery of Birmingham Museum & Art Gallery

St Michael's Victory over the Devil (1958), on the new Coventry Cathedral

Liverpool Resurgent, Lewis's, Liverpool
Notes
1. ^ Epstein, Sir Jacob. The Houghton Mifflin Dictionary of Biography, p. 498. Houghton Mifflin Harcourt, 2003. ISBN 9780618252107
2. ^ "Epstein, Jacob" entry in Academic American Encyclopedia, vol. 10, p. 223. Grolier Incorporated, 1994. ISBN 0717220532
3. ^ a b Encyclopedia Britannica. Sir Jacob Epstein (British sculptor)
4. ^ "Epstein, Jacob" entry in Futurism & Futurisms, p. 472. Abbeville Press, 1986. ISBN 0896596753
5. ^ Carrick Hill, Jacob Epstein
6. ^ Jewish Virtual Library. Sir Jacob Epstein (1880-1959)
7. ^ Schreiber, Mordecai; Schiff, Alvin I.; Klenicki, Leon. The Shengold Jewish Encyclopedia, p. 33. Schreiber Pub., 2003. ISBN 9781887563772
8. ^ See General Register Office index entries, Marriages Dec 1906—Epstein, Jacob and Marriages Dec 1906—Dunlop, Margaret, FreeBMD, Office of National Statistics. Retrieved on 26 August 2010.
9. ^ London Gazette: no. 28462, p. 874, 3 February 1911.
10. ^ a b Jacob Epstein
11. ^ Stock, Noel (1970). The Life of Ezra Pound. Pantheon Books. p. 202
12. ^ "ART: Familiar Sensation", TIME, March 25, 1935. "The spectacle to which he referred was an 11-ft., 7-ton statue of Christ propped against the wall in London's swank Leicester Galleries, the latest work of a heavyset, U.S.-born Jewish sculptor, Jacob Epstein."
13. ^ Ezra Mendelsohn, Painting a People: Maurycy Gottlieb and Jewish Art, University Press of New England, 2002, p. 240. "In his discussion of the American-born Jewish sculptor Jacob Epstein, Hutchins Hapgood writes..."
14. ^ Alyson Pendlebury, Portraying 'the Jew' in First World War Britain, Vallentine Mitchell, 2006, p. 165. "Among the most striking of these is an image of the Anglo-Jewish sculptor Jacob Epstein, a private in the 38th battalion, modelling a human figure out of sand..."
15. ^ Peter Lawson, Anthony Rudolf, Anglo-Jewish Poetry from Isaac Rosenberg to Elaine Feinstein, Vallentine Mitchell, 2006, p. 84. "... with the American-Jewish sculptor Jacob Epstein..."
16. ^ Epstein, Jacob. Let There Be Sculpture, READ Books, 2007, p. 180. ISBN 9781406729818
17. ^ Three sisters with a love, and lust, for life, Camden New Journal, 9 September 2004. Retrieved August 23, 2010
18. ^ London Gazette: (Supplement) no. 40053, p. 10, 29 December 1953. Retrieved 25 August 2010.
19. ^ The New Art Gallery Walsall - Collections and library - Collections
20. ^ Artcyclopedia. Jacob Epstein Online
21. ^ Berthoud, Roger, ''The Life of Henry Moore'', A William Abrahams Book, E.P. Dutton, New York 1987
22. ^ Read, Herbert, ''Henry Moore: A study of his life and work'' Frederick A. Praeger, Publishers, New York, 1966
23. ^ Hammacher, A.M., ''The Sculpture of Barbara Hepworth'', Harry H. Abrams, Inc., New York 1968

Bibliography
Below is a brief overview of key texts by or relating to Epstein:
* Buckle, Richard, Jacob Epstein : sculptor , (London: Faber 1963)
* Cork, Richard, Jacob Epstein, (London: Tate Gallery Publishing, 1999)
* Cronshaw, Jonathan, The Sideshow and the Problems of History: Jacob Epstein's Adam (1939). (University of Leeds, 2005)
* Epstein, Jacob, The sculptor speaks : Jacob Epstein to Arnold L. Haskell, a series of conversations on art, (London : W. Heinemann, 1931.)
* Epstein, Jacob, Let there be sculpture : an autobiography, (London: Michael Joseph, 1940)
* Friedman, Terry, 'The Hyde Park atrocity' : Epstein's Rima : creation and controversy (Leeds: Henry Moore Centre for the Study of Sculpture, 1988)
* Gardner, Stephen, Jacob Epstein: Artist Against the Establishment, (London: Joseph, 1992)
* Hapgood, Hutchins, The spirit of the ghetto : studies of the Jewish quarter of New York; with drawings from life by Jacob Epstein, (New York ; London : Funk and Wagnalls, 1909)
* Silber, Evelyn, et al. Jacob Epstein : sculpture and drawings, (Leeds : Leeds City Art Galleries ; London : Whitechapel Art Gallery, 1987)
* Turner, Colin, A Caricature of a Sculptor. Jacob Epstein and the British Press: a critical analysis of old history and new evidence, (PhD Thesis, Loughborough University, 2009)
* Carving mountains : modern stone sculptures in England 1907-37 : Frank Dobson, Jacob Epstein, Henri Gaudier-Brzeska, Eric Gill, Barbara Hepworth, Henry Moore, Ben Nicholson, John Skeaping. (Cambridge: Kettles Yard, 1998)