Sculptures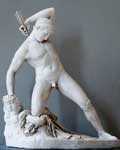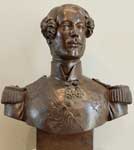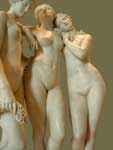 James Pradier, also known as Jean-Jacques Pradier (1790 - June 4, 1852) was a Swiss-born French sculptor best known for his work in the neoclassical style.
Life and work
Born in Geneva, Pradier left for Paris in 1807 to work with his elder brother, an engraver. He won a Prix de Rome that enabled him to study in Rome from 1814 to 1818. He studied under Jean-Auguste-Dominique Ingres in Paris. In 1827 he became a member of the Académie des beaux-arts and a professor at the École des Beaux-Arts. Unlike many of his contemporaries, Pradier oversaw the finish of his sculptures himself. He was a friend of the Romantic poets Alfred de Musset, Victor Hugo and Théophile Gautier, and his atelier was a center, presided over by his beautiful mistress, Juliette Drouet, who became Hugo's mistress in 1833.
The cool neoclassical surface finish of his sculptures is charged with an eroticism that their mythological themes can barely disguise. At the Salon of 1834, Pradier's Satyr and Bacchante created a scandalous sensation. Some claimed to recognize the features of the sculptor and his mistress, Juliette Drouet. When the prudish government of Louis-Philippe refused to purchase it, Count Anatole Demidoff bought it and took it to his palazzo in Florence. (It has since come back to the Louvre).
Memorial bust of the duc d'Orléans, 1842 (Louvre Museum)
Other famous sculptures by Pradier are the figures of Fame in the spandrels of the Arc de Triomphe, decorative figures at the Madeleine, and his twelve Victories inside the dome of the Invalides, all in Paris. Aside from large-scale sculptures Pradier collaborated with Froment-Meurice, designing jewelry in a 'Renaissance-Romantic' style.
He is buried in the Père-Lachaise cemetery. Much of the contents of his studio were bought up after his death by the city museum of Geneva.
Influence
Pradier's importance as an artist in his day is demonstrated by the fact that his portrait is included in François Joseph Heim's painting Charles X Distributing Prizes to Artists as the Salon of 1824, now in the Louvre Museum, Paris.
Pradier has been largely forgotten in modern times. In 1846 Gustave Flaubert said of him, however:
This is a great artist, a true Greek, the most antique of all the moderns; a man who is distracted by nothing, not by politics, nor socialism, and who, like a true workman, sleeves rolled up, is there to do his task morning til night with the will to do well and the love of his art.
An exhibition, Statues de chair: sculptures de James Pradier (1790–1852) at Geneva's Musée d'Art et d'Histoire (October 1985 - February 1986) and Paris, Musée du Luxembourg, (February - May 1986) roused some interest in Pradier's career and aesthetic.
Pradier's students included:
* Marie-Noémi Cadiot, 1828–1888
* Henri Chapu, 1833–1891
* Gustave Adolphe Désiré Crauk, 1827–1905
* Antoine Etex, 1808–1888
* Eugène Guillaume, 1822–1905
* Henri Lehmann, 1814–1882
* Eugène-Louis Lequesne, 1815–1887
* Henri Le Secq, 1818–1882
* Jacques-Léonard Maillet, 1823–1894
* Pierre-Charles Simart, 1806–1857
Victories surrounding Napoleon's tomb, Les Invalides
References
* Fusco, Peter and H. W. Janson, editors, The Romantics to Rodin, Los Angeles County Museum of Art 1980
* Hargrove, June, The Statues of Paris: An Open-Air Pantheon - The Histories of Statues of famous Men, Vendrome Press, New York 1989
* Mackay, James, The Dictionary of Sculptors in Bronze, Antique Collectors Club, Woodbridge, Suffolk 1977
* Nineteenth Century French Sculpture: Monuments for the Middle Class, J.B. Speed Museum, Louisville Kentucky 1971
From Wikipedia. Text is available under the Creative Commons Attribution-ShareAlike License