Julian Onderdonk

Paintings
A Cloudy Day, Bluebonnets near San Antonio, Texas
A January Day in the Brush Country
A Path Through the Texas Hill Country
A Spring Morning, Bluebonnets, San Antonio
A Thousand Islands, St. Lawrence River
A White Road at Late Afternoon
A Winter Morning on the Guadalupe River
Approaching Rain, Southwest Texas
Blue Bonnets at Late Afternoon
Bluebonnets at Late Afternoon, near La Grange, Texas
Bluebonnets at Twilight, near San Antonio
Bluebonnets, Late Afternoon, North of San Antonio
Bluffs on the Guadalupe Riiver, 17 Miles above Kerryville Texas
Evening Near Jackson, Southwest Texas
Field of Bluebonnets under Cloudy Sky
Field of Texas Bluebonnets and Prickly Pear Cacti
Foot of 52nd Street at Hudson Park
Forest Stream (aka Headwaters of the Guadalupe)
Glimpse of the Sea, Long Island
Goat Herder at the San Antonio Quarry
Golden Evening, Southwest Texas
Golden Evening, SouthWest Texas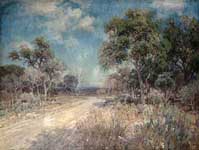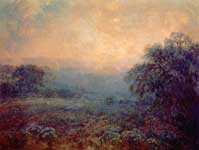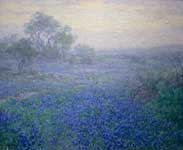 A Cloudy Day. Bluebonnets near San Antonio, Texas,
Julian Onderdonk (July 30, 1882–October 27, 1922) was a Texan Impressionist painter, often called "the father of Texas painting." Julian Onderdonk was born in San Antonio, Texas to Robert Jenkins Onderdonk (a painter) and Emily Gould Onderdonk. He was raised in South Texas and was an enthusiastic sketcher and painter.He attended West Texas Military Academy, graduating in 1900. At 19, with the help of a generous neighbor, Julian left Texas in order to study with the renowned American Impressionist William Merritt Chase. Julian's father, Robert, has also once studied with Chase. Julian spent the summer of 1901 on Long Island at Chase's Shinnecock School of Art. He studied with Chases for a couple of years and then moved to New York to attempt to make a living as an eu plain aire artist. While in New York he met and married Gertrude Shipman and they soon had a son.
President George W. Bush decorated the Oval Office with three of Onderdonk's paintings. The Dallas Museum of Art has several rooms dedicated exclusively to Onderdonk's work.
From Wikipedia. Text is available under the Creative Commons Attribution-ShareAlike License