Paintings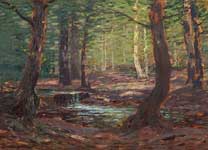 Leonard Ochtman (October 21, 1854 – 1935) was an American Impressionist painter. He was born in Zonnemaire, Netherlands as the son of a decorative painter. His family moved to Albany, New York in 1866.
Ochtman worked with a group of artists who were important in the development of the impressionist movement in the United States. In 1882 he began to exhibit landscapes at the National Academy of Design, and he became a National Academician in 1904. His most characteristic pictures, which recall the work of George Inness, are scenes on Long Island Sound and on the Mianus River.
Ochtman was a member of the Cos Cob Art Colony in Cos Cob, Connecticut.
His wife, Mina Fonda Ochtman (1862-1924), and daughter, Dorothy Ochtman (1892-1971), were also American Impressionists and notable members of the Cos Cob Art Colony in their own right.
References
* This article incorporates text from a publication now in the public domain: Chisholm, Hugh, ed (1911). Encyclopædia Britannica (Eleventh ed.). Cambridge University Press.
* "Mina Fonda Ochtman" (http://www.artcyclopedia.com/artists/ochtman_mina_fonda.html)
* "Dorothy Ochtman" (http://www.artcyclopedia.com/artists/ochtman_dorothy.html)
From Wikipedia. Text is available under the Creative Commons Attribution-ShareAlike License