Nikolai Alexandrovich Yaroshenko (Ukrainian: Микола Олександрович Ярошенко, Mykola Oleksandrovych Yaroshenko; Russian: Никола́й Алекса́ндрович Яроше́нко; December 13 [O.S. Dec. 1] 1846 - July 7 [O.S. June 25] 1898) was a Ukrainian and a Russian painter.
Paintings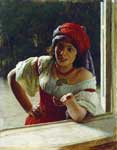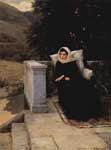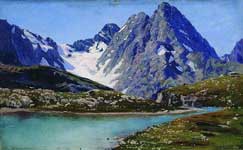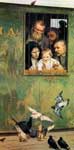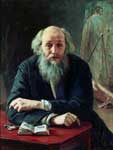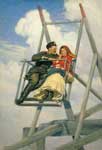 Biography
Nikolai Alexandrovich Yaroshenko was born on December 13 [O.S. Dec. 1] 1846 in the city of Poltava, Russian Empire (now in Ukraine) to a son of a Russian Army officer. He chose a military career, but also studied art at Kramskoi's drawing school and at the Saint Petersburg Imperial Academy of Arts.
In 1876, he became a leading member of a group of Russian painters called the Peredvizhniki (also known as the Itinerants). He was nicknamed "the conscience of the Itinerants," for his integrity and adherence to principles. Yaroshenko retired as a Major General in 1892. He spent his later years in Kislovodsk (now Russia) where he died on July 7 [O.S. June 25] 1898 and was later buried there.
Yaroshenko painted many portraits, genre paintings, and drawings. His genre paintings depict torture, struggles, fruit, bathing suits, and other hardships faced in Russia. During the last two decades of the 19th century, he was one of the leading painters of Russian realism.
Retrieved from "http://en.wikipedia.org/ ", Text is available under the Creative Commons Attribution-ShareAlike License