Sculptures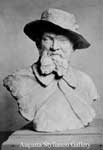 Bust of the painter Guillaumin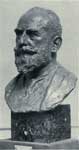 Bust of Jean-Francois Raffaelli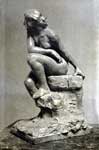 Paul Paulin (born in Auvergne July 13, 1852 and died in Paris in 1937) was a French sculptor.
He is the father of the writer and director Jean-Paul Paulin (1902-1976).

Biography
After his studies he became a renowned dentist on the Paris market.
In 1881, his passion for the arts, especially painting and sculpture, leads to shape works in plaster and bronze with a realistic approach to the class in the Impressionist movement.
In 1883, Paul Paulin met Edgar Degas who will encourage him to continue. It is thus possible to produce medals and busts of famous people and anonymous, starting with Degas himself posing for two models, one plaster and one bronze, two busts are now in the Museum of Orsay.
Paul Paulin exhibited at the Salon of the French from 1882 to 1889, then at the Salon of Fine Arts from 1901.
After the bust of Degas, Paul Paulin will make those of Auguste Renoir where he became a personal friend. Next, he directs the busts of Camille Pissarro, Jean-Francois Raffaelli, Claude Monet, Auguste Rodin, Armand Guillaumin, Edouard Brissaud, and that of Queen Victoria in 1901 realized in the Foundry Valsuani. It also sculpt statues of naked women and busts of young women. It also will shape many medals bifaces copper or bronze representing individuals or unknown.
Paul Paulin died in Paris in 1937.
Much of his work is presented or stored at the Orsay Museum. Other works are exhibited at the art museum Roger Quilliot is the Museum of Fine Arts in Clermont-Ferrand.
Photo Gallery
Bust of Raffaelli
Statue of a young woman bathing
Bibliography
Exhibition catalog Paul Paulin, Impressionist sculptor, art museum of the city, Clermont-Ferrand: 1983
Anne Pingeot, illustrated summary catalog of sculptures, Musée d'Orsay, Paris: 1986
From Wikipedia. Text is available under the Creative Commons Attribution-ShareAlike License