Paintings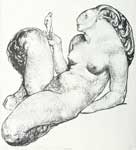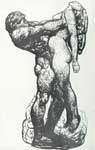 Rose Cecil O'Neill (June 25, 1874 – April 6, 1944) was an illustrator who created a popular period comic called Kewpie.

Early life
O'Neill was born in Wilkes-Barre, Pennsylvania as the second of seven children to William Patrick and Alice Asenath "Meemie" Smith O'Neill. As a child Rose loved to draw, and her father would leave specially sharpened pencils and blank paper around the house for her. At the age of 13 Rose entered a children's drawing competition sponsored by the Omaha Herald and won first prize. With in two years she was doing illustrations for the Excelsior and The Great Divide and other periodicals with help from the editor at the Omaha World-Herald and the Art Director from Everybody Magazine that had judged the competition. The income helped support her family which her father had not been able to do as a bookseller. Later O'Neill's father decided she would do even better if she went to New York City. William Patrick O'Neill took his daughter in 1893 to NYC stopping in Chicago to see the World Columbian Exposition where she saw large paintings and sculptures for the first time that she had only seen in her fathers books. Once in New York Rose was left on her own to live with the Sisters of St. Regis. The nuns accompanied her to various publishers to sell from her portfolio of 60 drawings. Rose sold all her work and took orders for more. Soon she was an extremely popular illustrator and was being paid top dollar for her work. In the September 19, 1896 issue of True Magazine O'Neill became the first American women cartoonist with "The Old Subscriber" cartoon strip. While O'Neill was in New York her father made a homestead claimed on a small tract of land in the Ozarks wilderness of southern Missouri. The tract had a 'dog-trot' cabin with two log cabins and a breezeway between, with one cabin used for eating and living and the other for sleeping. A year later Rose visited the land, which became known as Bonniebrook". During this time O'Neill joined the staff of Puck magazine.
Rose Cecil O'Neill
Early career
A few years later, while in Omaha, Nebraska, Rose met a young Virginian named Gray Latham. Visiting O'Neill in New York City, Latham continued writing to her when she went to Missouri to see her family. After Latham's father went to Mexico to make films, he went to Bonniebrook in 1896. Concerned with the welfare of her family, O'Neill sent much of her paycheck home to her family. With it her family built a 14-room mansion.
In the following years O'Neill became unhappy with Latham, as he liked "living large", including gambling, and was known as a playboy. With very expensive tastes, O'Neill found that Latham had taken her paychecks and spent them on himself. After having her money stolen by Latham, O'Neill moved to Taney County, Missouri where she filed for divorce in 1901, moving to Bonniebrook permanently.
"Signs", a cartoon for Puck by Rose O'Neill, 1904.
Ethel: "He acts this way. He gazes at me tenderly, is buoyant when I am near him, pines when I neglect him. Now, what does that signify?"
Her mother: "That he's a mighty good actor, Ethel."
After a short period of time O'Neill began receiving anonymous letters and gifts in the mail, eventually learning they were coming from an assistant editor at Puck. She married Harry Leon Wilson in 1902. After a honeymoon in Colorado they moved to Bonniebrook where they lived for the next several winters. During the first three years Harry wrote a novel, for which Rose drew illustrations. One of Harry's later novels, Ruggles of Red Gap, became popular and was made into several motion pictures, including a silent movie, a "talkie" starring Charles Laughton, and then a remake called Fancy Pants starring Lucille Ball and Bob Hope. Harry and Rose divorced in 1907.
Creation of Kewpie
After returning to Bonniebrook, Rose concentrated on her artwork. During that period, O'Neill created the Kewpie characters she became popular for. The cartoon was instantly famous. In 1912 a German porcelain manufacturer started making Kewpie dolls, and that year she and her sister went to Germany to show the porcelain artists how to make the dolls the way she wanted them.
Becoming known as the "Queen of Bohemian Society" O'Neill became a women's rights advocate. Her properties included Bonniebrook; an apartment in Washington Square in Greenwich Village that inspired the song Rose of Washington Square; Castle Carabas in Connecticut; and Villa Narcissus on the Isle of Capri, Italy. Considered one of the world's five most beautiful women, O'Neill made a fortune of $1.4 million, (approximately $15 million).
O'Neill continued working, even at her wealthiest. Perhaps driven by the unfortunate circumstances in her life to express herself, along with the needs of her family, she delved into different types of art. She learned sculpture at the hand of Auguste Rodin (The Thinker), and had several exhibitions of her "Sweet Monsters" in Paris and the United States. She held open salons in her Washington Square apartment where poets, actors, dancers and the 'great thinkers' of her day would gather. O'Neill often continued her drawing until early morning.
Later life
In 1937 O'Neill returned to Bonniebrook permanently. By the 1940s she lost most of her money and her beautiful homes because of her extravagant nature, and after fully supporting her family, her entourage of "artistic" hangers-on and her first husband. The Great Depression hurt O'Neill's fortune. During that period O'Neill was dismayed to find that her work was no longer in demand. The Kewpie character phenomena, after 30 years of popularity, faded, and photography was replacing illustrating as a commercial vehicle. O'Neill decided to make another doll, eventually creating Little Ho Ho, which was a laughing baby Buddha. However, before plans could be finalized for production of the new little figure, the factory burnt to the ground.
O'Neill became a prominent personality in the Branson, Missouri community, donating her time and pieces of artwork to the School of the Ozarks at Point Lookout, Missouri. She lectured at artist's workshops and continued to address women's groups.
In April 1944, O'Neill died at the home of her nephew in Springfield, Missouri. She is interred in the family cemetery at Bonniebrook next to her mother and several family members.
References

* Brewster, L. (2009) Rose O'Neill: The Girl Who Loved to Draw. Boxing Day Books. ISBN 978-0-9798332-3-6.
* Formanek-Brunell, M. (1997) The Story of Rose O'Neill. University of Missouri Press. ISBN 0-8262-1106-2.
* Ripley, J.R. (2004) Bum Rap In Branson. Beachfront Publishing. ISBN 1-892339-89-7.
* Armitage, S. (1994) Kewpies And Beyond, the World of Rose O'Neill.University Press of Mississippi. ISBN 0-87805-711-0.
* King, Alexander (November 24, 1934). "Profiles, "Kewpie Doll"". The New Yorker: 22. http://www.newyorker.com/archive/1934/11/24/1934_11_24_022_TNY_CARDS_000157600.

From Wikipedia. Text is available under the Creative Commons Attribution-ShareAlike License