Rudolf Ernst
Paintings
Young ladies on a terrace in Tangiers
Elegant Arab Ladies on a Terrace at Sunset
Gnaoua in a North African Interior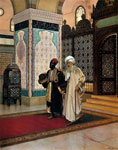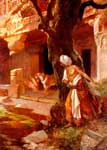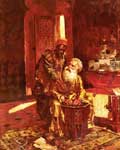 Rudolf Ernst (born February 14, 1854 in Vienna, † 1932 in Fontenay-aux-Roses near Paris) or Rudolph Ernst, who exhibited in France under the name of Rodolphe Ernst, was one from 1876, based in France, Austro-French painter, printmaker and ceramic painter. He is assigned to the Romantic Orientalist motifs and achieved mainly by success.

Life
The son of an architect was encouraged by his father, at the age of 15 years in the Academy of Fine Arts in Vienna, went on a study trip to Rome and continued his education in the years 1873 to 1876, August Eisenmenger (1830-1907 ) and Anselm Feuerbach (1829-1880) continued.
In 1876 he settled in Paris, where he was followed German Ludwig (1855-1935) and Johann Discart, his former classmate in the class of Feuerbach. In the year 1877 was his first participation at the Salon des artistes français. It probably followed around 1880 study trips to Spain, Morocco and Constantinople.
From 1905 in Fontenay-aux-Roses, a southern suburb of Paris resident, he launched the production of earthenware tiles with oriental motifs.
Work
Rodolphe Ernst initially devoted himself to genre painting. Beginning in 1885, he created paintings with oriental motifs exclusively, among which scenes from the world of Islam as the interiors of mosques a special rank. He also created harems and other everyday scenes from North Africa and the Middle East. Based on these eclectic works were photographs and prints, but also their own memories and during trips to Morocco and the artist's sketches created Constantinople.
Works (selection)
La lettre (German: The Letter), 1888, oil on wood panel, New York, Dahesh Museum of Art
Sortie au bain, the Salon des artistes français (1910) issued, location unknown
La partie d'échec (German: The game of chess), oil on wood, 49.5 × 61.3 cm, Nantes, Musée des Beaux-Arts
The water pipe smoker, oil on wood panel, 46 × 37 cm, private collection
After praying, oil on hardboard, 92.7 x 73 cm, London, Mathaf Gallery
N'a pas l'art de patrie (German: Art has no fatherland), San Francisco Fine Arts Museums of San Francisco, Achenbach Foundation for Graphic Arts, inv 1963.30.28537
Literature
Rodolphe Ernst. In: Austrian Biographical Dictionary 1815-1950 (ABL). Volume 1, published by the Austrian Academy of Sciences, Vienna 1957, p. 265
From Wikipedia. Text is available under
the Creative Commons Attribution-ShareAlike License