Artist Index
A - B - C - D - E - F - G - H - I - J - K - L - M
N - O - P - Q - R - S - T - U - V - W - X - Y - Z

Sculptures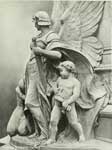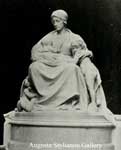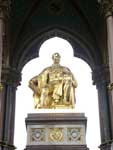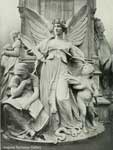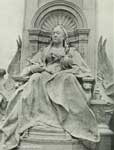 Sir Thomas Brock KCB RA (March 1, 1847 – August 22, 1922) was an English sculptor.

Life
Thomas Brock in his studio, 1889.
Brock was born in Worcester, attended the School of Design in Worcester and then undertook an apprenticeship in modelling at the Worcester Royal Porcelain Works. In 1866 he became a pupil of the sculptor John Henry Foley. He married in 1869, and had 8 children. After Foley's death in 1874, Brock completed some of his commissions.
He first came to prominence when he was asked to complete the statue of Prince Albert for the Albert Memorial. In 1901 Brock was awarded the colossal equestrian statue of Edward the Black Prince, set up in Leeds City Square, and was also given perhaps his most significant commission, the vast multi-figure Imperial Memorial to Queen Victoria in front of Buckingham Palace. According to legend, at the unveiling in May 1911, George V was so moved by the excellence of the memorial that he called for a sword and knighted Brock on the spot.
George V of the United Kingdom and Queen Mary with Sir Thomas Brock in the foundry of A.B. Burton.
His group The Moment of Peril (now in the Tate Gallery) was followed by The Genius of Poetry, at the Carlsberg Brewery, in Copenhagen, Eve, and other ideal works that mark his development. Other works include busts, such as those of Lord Leighton and Queen Victoria, statues, such as Sir Richard Owen and Henry Philpott, bishop of Worcester, and sepulchral monuments such as Lord Leighton in St Pauls Cathedral, a work of singular significance, refinement and beauty.
Brock was elected an associate of the Royal Academy in 1883 and full member in 1891.
Works
* Monument to Henry Philpott, Bishop of Worcester. South Transept of Worcester Cathedral. Seated white figure. (1892)[1]
* Queen Victoria Monument, Carlisle - UK
* Statue of Richard Baxter, 17th century English Puritan church leader and divine scholar. Originally in the Bull Ring, Kidderminster but moved to its present site, outside St Mary's parish church in March 1967. Unveiled 28 July 1875.[2][3]
The Imperial Memorial to Queen Victoria in front of Buckingham Palace
* Statue of Sir Rowland Hill, inventor of the Penny Black and modern postal system. Vicar Street, Kidderminster. Unveiled 26 June 1881.[4][5]
* Statue of Queen Victoria on the grounds of the Belfast City Hall
* memorial to the victims of the sinking of the RMS Titanic, also on the grounds of Belfast City Hall
* statue and bas-relief on the Sir Henry Bartle Frere Memorial, Whitehall Gardens, London
* statue of Sir Henry Irving on Charing Cross Road, London
* figures of Navigation and Gunnery at the Admiralty Arch, London

References
1. ^ The Buildings of England: Worcestershire, Nikolaus Pevsner, 1968 p312
2. ^ The Buildings of England: Worcestershire, Nikolaus Pevsner, 1968 p207
3. ^ Kidderminster Since 1800, Ken Tomkinson and George Hall, 1975 p209-210
4. ^ The Buildings of England: Worcestershire, Nikolaus Pevsner, 1968 p208
5. ^ Public Monument and Sculpture Association National Recording Project
Further reading
* Mark Stocker, 'Brock, Sir Thomas (1847–1922)', Oxford Dictionary of National Biography, Oxford
From Wikipedia. Text is available under the Creative Commons Attribution-ShareAlike License